2023 – 2024 Studio Portfolio

I am pleased to release the first edition of a yearly studio portfolio.

After spending the first half of this year working through outtakes from my practice for a book project, I was overwhelmed by how much work I do that is never seen, and how interesting some of those "less than perfect" works are. As such, I am launching a studio portfolio as a yearly edition for as long as I am working! These will be a collection of tests, experiments and work in progress.

Each month a work will be released on my Instagram. Portfolios purchased before the completion of a year will be sold at a 50% discount, at the end of the year any editions of the completed portfolios will be available at gallery retail through one of my representative galleries.
Portfolios purchased before the end of October will receive a 13th bonus print. In this case one of the cfaal outtakes I was working on this winter for my book project.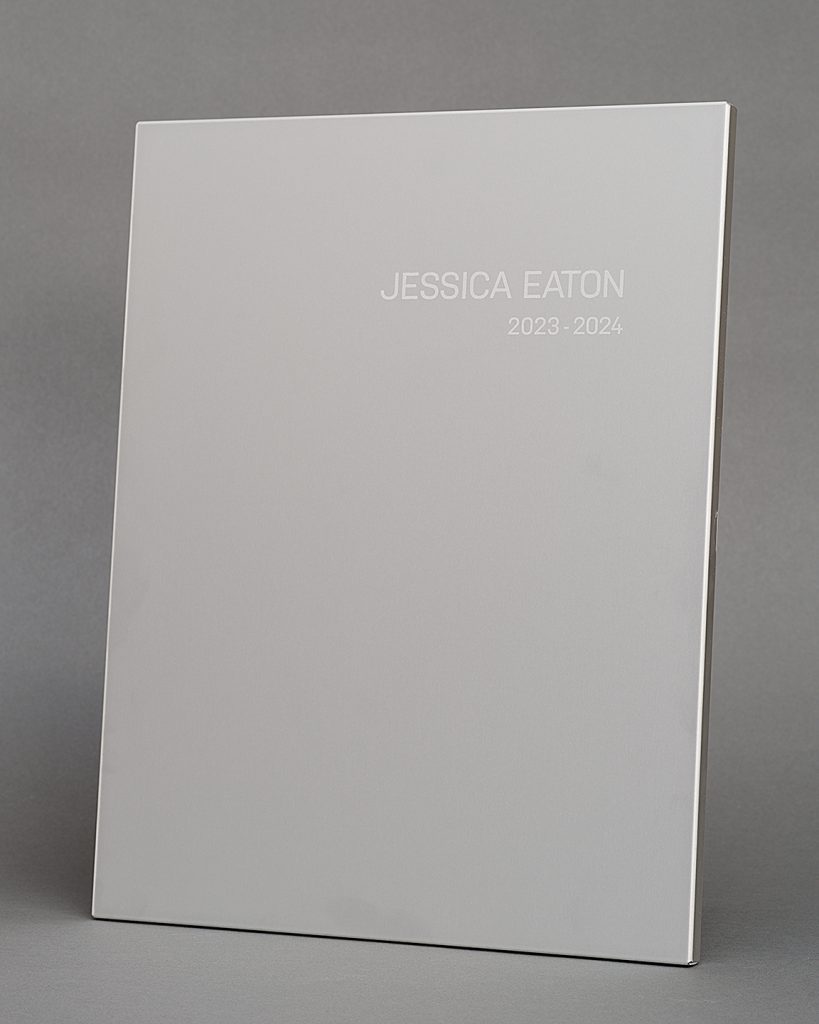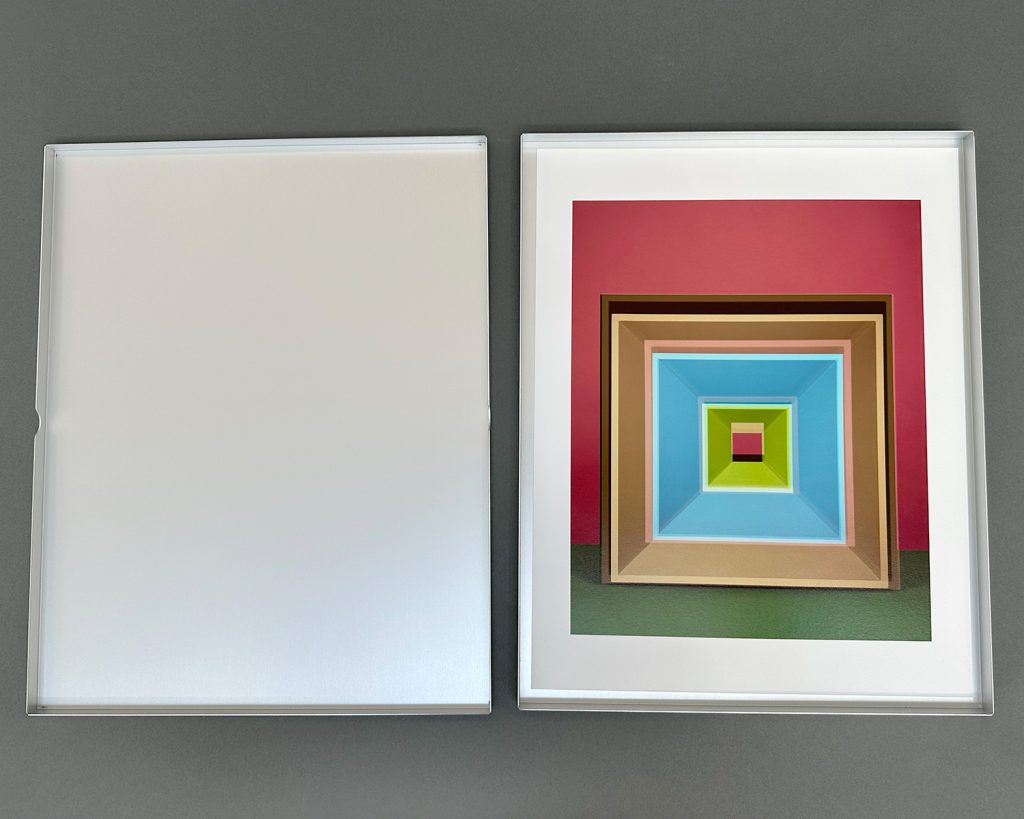 Set of 12 pigment prints (released monthly)
Image size: 9" x 11.25", paper size: 11" x 14"
Paper: Carson Baryta Prestige II
Portfolio Box: Laser Etched Aluminum 14.5" x 11.5" x 0.5"
Edition of 25 + 5AP

Bonus print for early orders: cfaal 2214, 2018

$5,000 CAD ($2,500 CAD until 08/30/2024) + Shipping*
*if you would like your prints shipped monthly additional shipping charges will apply
BIO:
Using a large-format film camera, Jessica Eaton has developed a complex and experimental approach to image-making and her work considers the very nature of photography. Eaton came to international acclaim through her Cubes for Albers and LeWitt (commonly referred to by the acronym cfaal)—a series of vibrant photographs that deconstruct her studio practice. Like the majority of Eaton's works, these optically charged images are made by taking multiple in-camera exposures of common studio supplies. Through her abundant use of traditional analog photography practices—such as colour-separation filtering and in-camera masking—Eaton imbues her large-format images with an aesthetic more reminiscent of the paintings and drawings of hard-edge geometric abstraction than the photographs of traditional studio work.
Born in Regina, Saskatchewan in 1977, Jessica Eaton currently lives and works in Montreal. She received her bachelor's degree in Fine Arts from the Emily Carr University of Art + Design in Vancouver (Canada). Solo exhibitions include Wild Permutations at the Museum of Contemporary Art in Cleveland (USA); Flash: Jessica Eaton at the California Museum of Photography (USA); and Ad Infinitum at The Photographers' Gallery in London (UK). Eaton has been featured in numerous group exhibitions, including Under Construction – New Positions in American Photography at the Foam Fotografiemuseum in Amsterdam (Netherlands); Process and Abstraction at the Cleveland Museum of Art's Transformer Station (USA); Color Acting: Abstraction Since 1950 at the Museum of Fine Arts in St. Petersburg (USA); Québec Triennial at the Musée d'art contemporain de Montréal (Canada); Photography is Magic at the Daegu Photography Biennale (South Korea); and Phantasmagoria at Presentation House Gallery in Vancouver (Canada). Eaton was nominated in 2016 for the prestigious Sobey Art Award. In 2015, Eaton was selected by the Capture Photography Festival to create a major public art commission for the city of Vancouver. Notable press includes The New York Times, The New Yorker, Art in America, ARTnews (cover) and The Guardian. Her work can be found in the public collections of the National Gallery of Canada and the Musée d'art contemporain de Montréal (Canada), among others. Jessica Eaton has been awarded a Guggenheim Fellowship in 2019, solidifying her position as one of the most important Canadian photographers working today.